With All My Heart
The Thorne Brothers Series
Book #3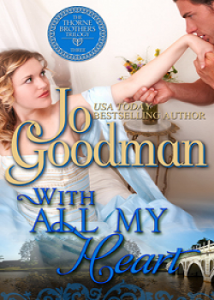 Original Release Apr. 1999 * Reprint Oct. 2012
Grey Janeway had no past, at least one he could remember. But in the new West, a man's past didn't matter. What he made of himself did. And in the glittering gold -rush city of San Francisco, Grey was on his way to building his empire as the owner of a prosperous gaming house and hotel. When he encountered the spellbinding psychich whose eyes – and dazzling beauty – penetrated his soul, he knew he'd just struck gold. For while her special talent could draw more crowds to his hall, her tenderness helped fill another void. But as Grey was about to learn, everything had a price, including love.


Berkeley Shaw had the gift of second sight. Hired by Colin and Decker Thorne to find their missing brother, Berkeley left Boston and headed West – only to arrive in a city without mercy, where her abilities made her vulnerable to other people's greed. But when fate swept her to Grey Janeway, a man with a reputation for getting everything he wanted, Berkeley not only discovered what she'd set out to find, but also a love that would demand all of her courage…and heart.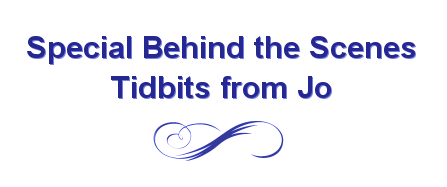 This tidbit has a lot more to do with the Thorne brother series than it does specifically with WITH ALL MY HEART. At the same time it explains the dedication to this particular book and what letters from readers really mean to me.

Most of the people listed in my dedication are readers who have taken the time to write to me. Sometimes it was to ask a particular question, other times it was to say how they enjoyed a certain book, and occasionally it was to relate how a story touched them. Each person mentioned in the dedication also touched me.

In various tidbits I have mentioned how certain ideas really form on a subconscious level – or, in my case, a barely conscious level. It was in replying to a reader that I began to realize how certain elements for this series came from my own personal experience. It was absolutely something I hadn't understood until that moment.

The story is simple enough. I had a half-brother whom I didn't know existed until I was 14. He was the son of my father's first marriage and he lived in another state with his mother and grandmother. He was a great mystery to me. The potboiler romantic in me wondered if it would be possible to meet him by accident and fall in love and not realize he was my brother. Oh, the drama that would ensue! For some reason I wasn't connecting with the fact that we both had the same last name – and what were the chances of that? We would have figured out the real relationship pretty fast.

Olaf, on the other hand, had no romantic illusions. He didn't know that his father had a second wife or any children by that marriage. When he set out to find his father in the summer of '72, he had no firm ideas about the man he would encounter. He had grown up hearing, "You're just like your father!" without knowing exactly what that meant. Was it an epithet? Praise? Was it meant to encourage or reflect exasperation? As Olaf came to know our father, it was all of those things at one time or another.

It was not a simple task for Olaf to find his father. The last address he had was more than 15 years old. Luck, however, was on his side. That address brought him to extended family who pointed him in the right direction. He never told them his name and they never asked. They knew who he was when he came up to their doorstep. He was the spitting image of his father at that age.

Olaf backtracked 50 miles to find our home. He found his father and for the first time learned he had 2 brothers and 2 sisters. For someone growing up as an only child it must have been overwhelming. It was a pretty exciting time for us, too. He was more like Dad in looks and mannerisms than any of the rest of us – which was kind of spooky. (It also ended any residual romantic notions I had! Too weird even for the soap opera in my head.) But he was like us, too. The thing that stood out the most was that he swam competitively just as we did.

Olaf's courage always impressed me. The pull of wanting to know family drew him toward us. The drive he showed in wanting to be connected to his father stayed with me. The seed that he planted became Colin's unflagging search to be reunited with his brothers. It was the force that drew Colin, Decker, and Grey together and sustained the Thorne brother trilogy. I wouldn't have realized how much Olaf influenced me if it hadn't been for the letter of one reader and her prompting of my buried thoughts.

The chance to write this tidbit is simply another opportunity to thank all the readers who have shared their thoughts with me and helped me uncover my own. If you're one of them, thank you.