Now on Apple Audiobooks for all Apple Devices!
If you have an Apple device and the Apple Books app, you might be interested in one or all of these audiobooks.  On 12/14/2022 Apple rolled out the first phase of its Artificial Intelligence (AI) audiobook program. The digital narration uses advanced speech synthesis technology developed by teams of linguists, quality control specialists, and audio engineers to produce high-quality audiobooks from an ebook file. And you, dear reader, have an opportunity to provide feedback to Apple to make the experience better for others.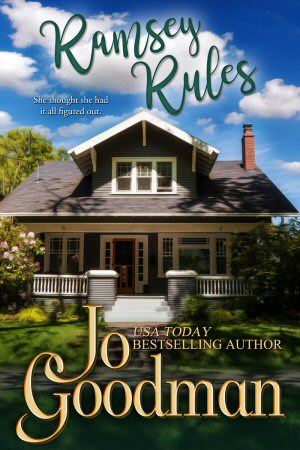 Ramsey Rules
A Brand New Contemporary Romance
Ramsey Masters is the Ridge Outlet Theft Prevention Specialist, that is, she spends her days stopping shoplifters. While catching someone stuffing a PS4 controller into their pants or a ham into their handbag is more amusing than it is dangerous, the type of work isn't what drew Ramsey to the job. She needed a new city, a new life, where she could blend in, keeping her private life private. She's made a few friends and dates some—all unsuccessful. While she knows several of the local police due to her job, when her favorite tall, dark and uniformed stops her for speeding the attraction she feels makes her think maybe she'll give dating one last try. But there has to be rules… 
Sullivan Day needs a date—a plus one for his cousin's wedding, and he's running out of time. Feeling Ramsey is out of his league, he's avoided asking her. But when she blasts by him in a red sports car, he figures Fate has intervened. He's completely intrigued as to how and why a minimum wage big box store cop is driving a Mercedes Benz—and completely turned on by her sassy attitude. So, after writing her a speeding ticket, he asks her out, even though she warns him up front about her pathetic dating record. With everything in common, a friendly relationship should come easy, but for reasons Sullivan can't figure out, Ramsey is very guarded about her past. However, when illegal activity at the Ridge entangles their professional and social life, things are about to get real. Real dangerous. Real sexy.Ou
Update on Facebook Trouble
Dear Readers,
I no longer have access to my jogoodmanromance Facebook page.  Facebook has created a system of checks and balances that prevents me from posting.  I know who I am and I know where I am, but somehow their algorithms can't verify me. (And their support is spectacularly unhelpful.) So…that's it for Facebook.  I do, however, have a Twitter account, and I will use it to let you know what's going on with books. If Twitter's not your thing, please sign up for my newsletter.  I promise not to bombard you with info.
My twitter is @jogoodmanbooks if you would like to follow me there.    

Out Now!
Stages of the Heart
Love guides even the most cautious of hearts home as USA Today bestselling author Jo Goodman returns to the trails of the Colorado frontier.
Experience has taught Laurel to be suspicious of the men who pass through Morrison Station. She's been running the lucrative operation that connects Colorado's small frontier town of Falls Hollow with the stagecoach line since she inherited it from her father, and she's not about to let some wandering cowboy take over the reins. But newcomer McCall Landry isn't just any gunslinger. He seems to genuinely care for Laurel, and with his rugged good looks and mysterious past, he could be the one man to finally tempt her off track…
Call Landry doesn't expect much from Falls Hollow. He doesn't expect much from anything anymore. But Laurel Morrison took him by surprise when she put in a good word for him, a virtual stranger, after the stagecoach was robbed–and she keeps taking him by surprise. Charmed by her clever wit and fierce loyalty, Call finds himself falling hard. Now all he has to do is convince her he means to stay–in her bed, in her life, and in her heart.
Order Your Copy Today!







Out Now!
A TOUCH OF FOREVER
Book 3 in The Cowboys of Colorado Series

A marriage of convenience turns into a sweetly seductive love-off-the-rails romance in the latest Cowboys of Colorado novel from USA Today bestselling author Jo Goodman.
Lily Salt has sworn off men. After finally gaining her independence, the last thing she needs is another man telling her what to do. But the handsome railroad engineer from New York isn't at all what she expected. He's kind, gentle…and tempting enough to make her wonder what a second chance at love might be worth.
A self-acknowledged black sheep, Roen Shepard knows what it means to feel alone. Recognizing a kindred spirit in the reserved widow whose fascinating blue-green eyes have seen too much, and charmed by the warmth of her ready-made family, the two begin an unlikely friendship.
When a complication from his past follows him to Frost Falls, Roen proposes a mad scheme to protect the new life he's built and keep close the stubborn woman he's accidentally fallen for-a marriage of convenience. But Lily has secrets of her own, and the closer he gets to uncovering them, the more he comes to realize that the only truth that matters is the secret to unlocking her heart.
Order Your Copy Today!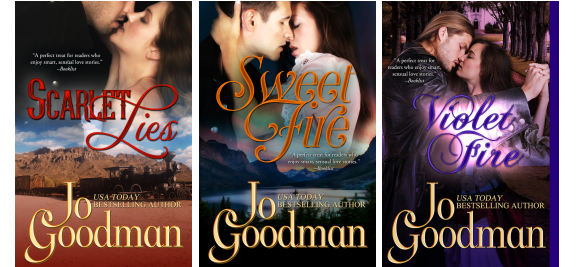 These three Jo classics have been re-released
in new Author's Cut Editions!
Violet Fire, Scarlet Lies, and Sweet Fire

A TOUCH OF FLAME
Book 2 in The Cowboys of Colorado Series

USA Today bestselling author Jo Goodman returns to the gunslinging outlands of A Touch of Frost with a sizzling new romance where the new town doctor learns there's nothing she likes better than a run-in with the law.
Dr. E. Ridley Woodhouse is like no physician Ben Madison has ever met—she's a woman. As the newly elected sheriff of Frost Falls, Colorado, Ben is tasked with welcoming Ridley to the community. But while Ben might be tempted by the new doc's charms, getting the town to accept a big-city, female doctor is no easy feat. To earn their trust she'll have to prove herself and Ben determines to help her…even if she's the most stubborn woman he's ever met.
When the husband of one of Ridley's patients threatens her, forbidding Ridley from treating his wife or children, all of Ben's protective instincts kick in. Ridley has come to rely on Ben's steady presence and the delicious tension that simmers just below the surface of their easy friendship—but as much as she trusts that his warnings to steer clear of Jeremiah Salt are sincere, she's never been one to back down from a challenge and she refuses to abandon her patient.
But sticking to your guns can earn you trouble in the rough terrain of the Wild West and danger threatens Ridley from unexpected places, forcing Ben to confront his deepest fear in order to save the woman he loves.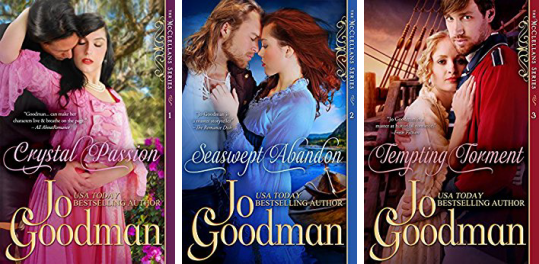 The McClellan Family Series is finally available again




in the new Author's Cut Editions!