One Forbidden Evening
The Grantham Series
Book #2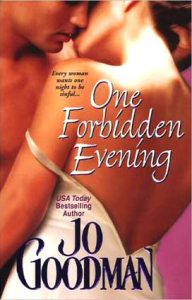 In USA Today Bestselling author Jo Goodman's sizzling new tale of wicked desire and daring liaisons, the most unlikely couple embarks on an adventure fraught with danger-and a passion too powerful to deny…
As a masked ball reaches its fever pitch, Cybelline Caldwell surrenders to the embrace of a midnight lover, a stranger who seals her fate. By morning the wanton seductress has been replaced by a determinedly sensible woman preparing to leave London…and its memories. Yet temptation follows. For Christopher Hollings, Earl of Ferrin, the notorious rake she so brazenly challenged, vows to show her that one night was not enough.
It took some clever detective work, but Ferrin uncovered the identity of his mystery lover, surprised and intrigued to come face to face with Cybelline. Soon he discovers she is a woman of mystery-and a woman in danger, stalked by a ruthless enemy. Unable to erase the searing memory of Cybelline in his arms, Ferrin knows he must discover the secrets that shadow her days…for only than can he claim all of her nights.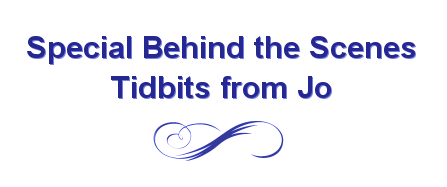 Oh, those scoundrels. When I wrote A Season to be Sinful, I had no idea how the scoundrels would delight so many readers. For those readers who think Pinch, Dash, and Midge deserve follow up books of their own…they don't. What makes them devilish fun as children doesn't necessarily translate well to adulthood and I fear — in my hands at least — the fizz would flatten. However, because I also have a soft spot for the threesome, I gave them some page time in One Forbidden Evening. They are, after all, the "nephews" of Cybelline Caldwell and One Forbidden Evening is the story she shares with Christopher Hollings, Earl of Ferrin.

I keep learning the hard way that one of the unfortunate tendencies I have as a creator of characters is to make them more intelligent than I am. How else can I explain Ferrin's interests? My degree in biology, the minor in chemistry, and my brief acquaintance with calculus and physics (a rotten and unfortunate acquaintance, by the way), hardly prepared me to understand the sort of things scientists get up to — even if they were getting up to it 200 years ago. To the extent that any of the particulars regarding Ferrin's voltaic pile are correct — well, that was luck. To the extent that they're wrong — well, tha's bad luck. I like to remind myself that I'm writing fiction and move on. (It would have been so much better if my professors had shared that point of view when grading my essays. Really.)

The aspect of One Forbidden Evening that was more interesting on personal level was working with the emotional intelligence of a character that had loss, specifically a loss that is not entirely understood. I recently began to comprehend how loss, or rather the fear of it, has effected decision making almost all of my life. I now have even more respect for how a subtle influence can be so profoundly impactful. Just when I think I'm a fairly rational and reasoned person, I realize how truly reactive I am. Something of an epiphany, I can tell you. Having the opportunity through Cybelline to give it some more thought was helpful. Quite a bit of that thinking is still in my head because — and I cannot emphasize this enough — Cybelline is not me. No character is. And yet they all are. Even when they're a lot smarter.