My Heart's Desire
The Dennehy Sisters Series
Book #2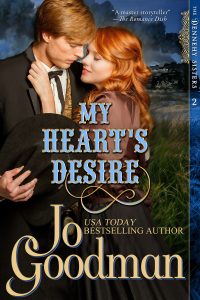 Original Title: Rogue's Mistress
May 1993; reprinted Oct. 2014 
A man she could not resist
They said her father was dead, but Rennie Dennehy refused to believe that. Vowing to uncover the truth behind his strange disappearance, Rennie headed to the wilds of Colorado – and the only man who could help her. Bounty hunter Jarret Sullivan was a rogue with a smile as infuriating as it was irresistible. And though they shared a past she'd rather forget, seeing him again rekindled the flames of a desire she could not resist. . .and soon Rennie found herself surrendering to his wild sweet loving over and over again!
A woman he could not deny
The last woman Jarret Sullivan ever expected to see again was Rennie Dennehy. A man might do a lot of things for ten thousand dollars, but tangling with a wild Irish beauty wasn't one of them! For months he'd been trying to forget her, but memories of the passion they'd once shared still haunted him. Now he had a second chance to take her in his arms and love her the way she was meant to be loved: with kisses of pure molten fire and of burning passion. Jarret didn't plan on losing Rennie again. For this time he would not only make her his captive to his touch, but captive to his heart!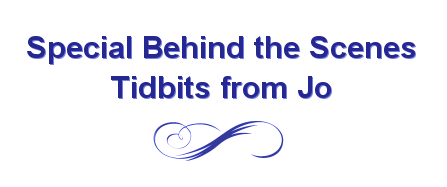 This is Mary Renee's story. I met a woman named Renee (pronounced Rennie) at the same workshop where I almost died from a lemon ball. Yes, there's a story here, and it's not the one I wrote about. It's the one that explains the book's dedication.

We (Lisa, Renee, Aimee, Gwen, Tom, Clarence, Georgie, Karen, and Karen) returned from lunch in high spirits. Five day workshops can make you a little punchy. Gwen had some kind of lemon candy that she popped into her mouth which immediately made her entire face pucker tighter than a certain sphincter in the nether regions. So I asked what I thought was a reasonable question, "Why does anyone eat a piece of candy that does that to your face?" It couldn't possibly taste good, could it?

Well, Gwen offers me her last lemon ball. To my credit, I did not immediately accept. It required a great deal of peer pressure before I was moved to take it. Lisa's contribution was to say, "C'mon, Joanne, give us a memory."

Sure. So I put the lemon ball in my mouth and my entire face puckers so tight you can't jam a pin between my lips with a jackhammer. Needless to say the group is laughing hard. I couldn't help myself. I laughed too. Sucked in my breath and there goes the lemon ball right back into my windpipe!

I leap to my feet. Knock over the chair behind me. My eyes are as big as half-dollars. I put my hands up to my throat in the universal sign of choking and Lisa, ever the cool one in a crisis, yells, "Does anyone know CPR?"

I think, oh my god, I'm gonna die. I can't breathe and someone is going to jump on my heart! Imagine my concern here. Everyone in this room is Red Cross certified in first aid and CPR but they seem a lot more eager to do chest compressions than put their double fists in my gut.

Luckily Aimee stands up and asks the important question: "Are you choking?" I nod. She gets behind me and does the Heimlich and that lemon ball is still orbiting.

They deserved a dedication after that. Most of their names made it into the book. And we still laugh about the incident when we run into each other – however, no one makes me laugh while I'm eating.