More Than You Know
The Hamilton Family Series
Book #1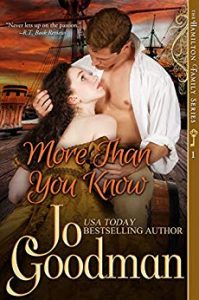 Originally Released 2000; reprinted Oct. 2016
More than he knew




Rand Hamilton vows to rebuild his Charleston plantation with the only means left to him: a long-lost treasure that has lured and cursed two families for centuries. But to finance his expedition, he must agree to the terms of his wealthy London benefactor and allow his goddaughter to accompany him. Although wary, Rand agrees to take the woman with him, unaware that she is the one who holds the key to a haunting riddle that will lead him to a glorious treasure – and to a passion he has never known.


More than she dreamed




London heiress Claire Bancroft is desperate to seek hidden meaning to the terrible fate that has shattered her life. Determined to find her missing brother and unlock the haunting secrets of her past, she must place her trust in Rand, only to discover that she is becoming completely enraptured by him…and the promise of a shining future together…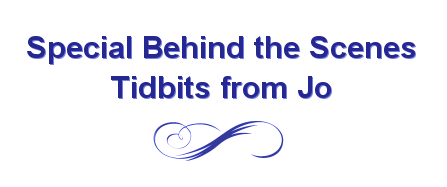 I've always been intrigued by puzzles, not the put-them-together-jigsaw variety, but the word and logic and mystery kind. Not that I'm particularly good at them. My patience wears thin in an absurdly short time and, I confess, if the answer is too easily available, I have a tendency to peek. But, if sufficiently intrigued, with no answer at the ready, I'll play brain games for hours or days.

The Hamilton and Waterstone riddles were written months before More Than You Know was underway. Working in a way that was truly different for me, I jotted snippets down while I was engaged in other activities. I collected the scraps, lines written on post-it notes at work, in the margins of the NY Times Sunday crossword, and on the back of pink phone message slips, and put them together. The story proceeded from there, but the riddles were eventually solved by Rand and Claire in a way I hadn't anticipated when I first wrote them. I realize that probably sounds confusing. I guess you had to be there; plan A never quite materialized and the characters went on to plan B. I had, in effect, written riddles with no solutions to turn to. What was I thinking? (Mental head slap.)

Since I generally get asked about naming characters, here's the 411: Claire is named after my niece; Rand after my favorite author, Ayn Rand. Bree is a neighbor. Cutch rhymes with Butch, not Much. Any resemblence between the London whore Jeri-Ellen and a certain Jeri who frequents the message boards at The Romance Journal is purely serendipitous. 😉 Readers familiar with my earlier books will find name-dropping references to other characters. There are at least three I can think of in More Than You Know.

I would like to take this opportunity to thank Dr. Aaron Kerr for her (yes, she's a she) assistance with certain aspects of Claire's character. (I'm trying not to give anything away here, although I understand the reviewer at RT did. Sigh.) I would also like to thank my editor John Scognamiglio for coming up with a great title. I think he's a little psychic because he suggested the name before he'd read a word of the manuscript. A very special acknowledgement to Lys Davis for helping me with an important Big Dipper fact. It was one of those things that I thought I knew, then I second-guessed myself, then I fretted, and then Lys came through from Down Under with the definitive, expert final right answer. It was like using the phone-a-friend lifeline – but without big bucks involved. Thanks a million, Lys. Finally, thanks to Laura Novak for her timely assistance with an outline when my back was pressed firmly against the wall. Basically she saved my butt.