Crystal Passion
The McClellan Family Series
Book #1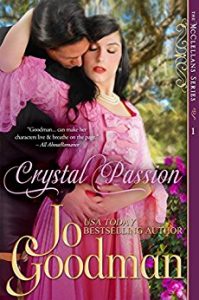 Aug 1985; Reprinted 08/1999 and 2018
Ashley Lynne had never expected kindness from her guardian, the cruel Duke of Linfield. But to be betrothed by him to an aging peer she hardly knew was unthinkable. Even worse was the cost of her resistance, for Ashley awoke from a drugged sleep to find herself in the bedchamber of a dark-haired, steel-eyed stranger.


Sent to England on business, Captain Salem McClellan assumed the lovely young woman curled in his bed was only an evening's entertainment supplied by the Duke of Linfield. Ashley's terrified protests were proof of her innocence – and a powerful inspiration to rescue the young beauty from her guardian's clutches.


From the gloomy docks of London to the lush green hills of Virginia, Salem and Ashley embark on a journey that plunges them into scandalous family secrets, and into the danger of the American Revolution. Together, they will fight for America's freedom, and the promise of being wrapped in each other's arms…forever.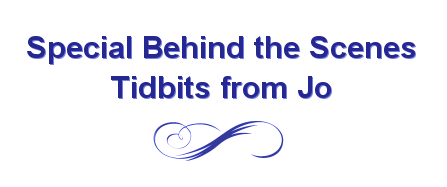 After I heard that PASSION'S BRIDE was going to be published I thought a little about the next book I would write. Trouble is, I thought too little. Instead of starting from scratch, I had some cork-brained scheme that I could apply first aid to the first romance manuscript I had written. I pulled it out of the file drawer and went at it. A couple of things conspired against me: I was a little freaked by trying to use a computer for the first time and I hadn't done any writing except graduate school papers for the past 5 years. Oh, and have I said the discarded manuscript sucked ? First aid wasn't sufficient. I applied CPR, tried a transplant, and still couldn't find the story's heart. My editor thought the same thing. She rejected it. After I got over the initial shock and realized she had rejected the story, not me, I went to work on CRYSTAL PASSION.

I've never used a baby naming book to find names for my characters. Often they come from people I know or have briefly met. Occasionally they come from readers. The hero in CRYSTAL PASSION is Salem McClellan. I met Salem at a friend's house just before I started work on CP. I thought it was an unusual moniker and asked him how it was that he was named after a town in Massachusetts. He looked at me like I was an idiot – which I can be – and said it was a family name and came from the Bible. Basically it was a shortened version of Jerusalem. Sometimes it only takes that much to inspire me. I thought of creating a family whose members had Biblical names (with a wink and a nod to 7 Brides for 7 Brothers and Stephen Vincent Benet) and let things flow from there.

The dedication of the book is For friends of John Sutton. John Sutton Hall was the dorm where I lived my freshman and sophomore years at Indiana University of Pennsylvania. The dormitory was once the entire school. It housed classrooms and offices and a dining hall and sleeping accommodations for students – back in 1875. It was barely livable when I got there in 1971. My room had no electrical outlets. You had to buy an adapter for the light fixture (which came out of the wall like an old gas light which is exactly what it was at one time) and everything got plugged into it – radios, stereos, and illegal hotpots. Can we say fire hazard? Oh, but what a good time we had there on Sutton 4 South! The conditions of the dorm gave all us newbies a common complaint. We loved to hate the place so much that when we were offered a chance to leave our sophomore year, we stayed right where we were! We didn't get a chance to repeat the living arrangements our junior year. The dorm was deemed unsafe and we had to go into the lottery for housing. A few years later John Sutton was remodeled, refinished, and revitalized so the old place is now a show place.

Now that you know more than you wanted to about John Sutton, let me explain why I mentioned it. Many of the names of CRYSTAL PASSION'S incidental characters come from the friendships that were forged during those years: Arnie, McKillop, Darlene, Smith, Brownlee, and Pooley. Because I couldn't use everyone's name in the book I covered the bases (and my butt) by dedicating the book to all of them.

And one final note about CRYSTAL PASSION. When I wrote the first 150 pages, Lady Davinia Grant was actually Lord David Grant. The Duke of Linfield's lover was a man not a woman. My editor said no and I said okay. Hey, I'm nothing if not flexible. By that time I was comfortable enough with the new computer to take advantage of the find/replace key and voila! David became Davinia. I don't work from an outline so it wasn't as if this presented a huge shift in my thinking, but what a different book it would have been without the find/replace sex change!