All I Ever Needed
The Compass Club Series Book#3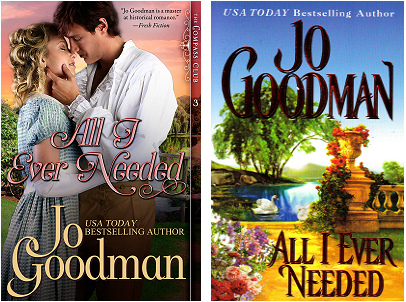 Re-release Nov 2015 / Original Release Oct 2003
No one writes romance like Jo Goodman. especially with her magnificent quartet featuring the irresistible men of the Compass Club. In her third installment she holds readers spellbound as Gabriel Whitney. Know as East to his friends, enters the life of a woman disinclined to let him into her house – mush less into her heart…
Lady Sophia Colley, daughter of the late Earl of Tremont, finds herself imprisoned in her own home by mercenary cousins who want her to marry the money her poor father failed to leave them. When the Marquess of Eastlyn arrives to rectify the false rumor that he and Sophie are engaged, the last thing he expects is to be entranced by her honey – hued eyes. East proposes on the spot, only to have Sophie turn him down flat.
But Sophie's rejection of East is far from personal. In Fact, it's all she can do to resist his charms… and her willpower is put to the ultimate test when he returns. The desire between them is impossible to deny, but deny it she must in order to protect East from a past intrigue that is about to place them both in very present danger. Now, they must work together in very close quarters, for only after they unravel a treacherous mystery will they be free to pursue the love of a lifetime…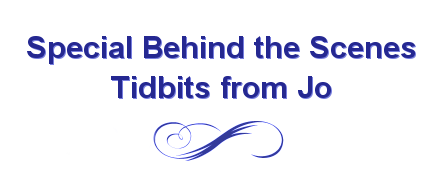 One of the most often asked questions any writer gets is "Where do you get your ideas?" I answer in different ways, depending on my mood. Once, the mother of a friend of mine put this question to me, and since I knew she was particularly interested in the muse behind those bedroom scenes, I answered, "Your daughter tells me all about her love life." That ended that conversation quickly enough and, funny, it hasn't come up again.
As for other ideas, well, where do you get yours? I find I am most thoughtful about characters and plots just before I fall asleep — or when I'm driving. Imagine the ideas I might generate falling asleep at the wheel! Sophie and East had that kind of beginning. I knew they had to be together because I'd set it up in the previous Compass Club books — even the timeline was set by the earlier books — but how it might come to pass was not so well formed in my mind. I suppose what I've learned to count on is that an idea will come to me if I can just relax and be open to it. In this case it was just thinking about East being bullied at Hambrick Hall that helped make the rest of the story unfold. Once I knew the Society of Bishops was trying to steal his desserts, everything flowed from there. And when the Compass Club gets into a bit of a scrape? Well, it helps that I write characters that are smarter than me.