A TOUCH OF FOREVER
The Cowboys of Colorado 
Book #3
A marriage of convenience turns into a sweetly seductive love-off-the-rails romance in the latest Cowboys of Colorado novel from USA Today bestselling author Jo Goodman.
Lily Salt has sworn off men. After finally gaining her independence, the last thing she needs is another man telling her what to do. But the handsome railroad engineer from New York isn't at all what she expected. He's kind, gentle…and tempting enough to make her wonder what a second chance at love might be worth.
A self-acknowledged black sheep, Roen Shepard knows what it means to feel alone. Recognizing a kindred spirit in the reserved widow whose fascinating blue-green eyes have seen too much, and charmed by the warmth of her ready-made family, the two begin an unlikely friendship.
When a complication from his past follows him to Frost Falls, Roen proposes a mad scheme to protect the new life he's built and keep close the stubborn woman he's accidentally fallen for…a marriage of convenience. But Lily has secrets of her own, and the closer he gets to uncovering them, the more he comes to realize that the only truth that matters is the secret to unlocking her heart.
Order Your

Copy Today!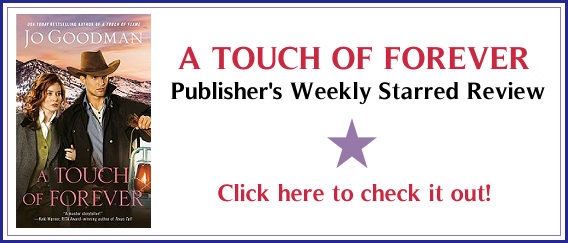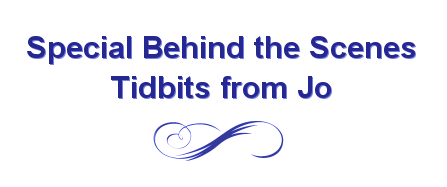 If you visit my Facebook page https://www.facebook.com/jogoodmanromance, then some of this will be familiar to you. You might remember that I was about 50 pages short of finishing this manuscript when I slipped on ice in my driveway and broke my leg. Less than six months earlier I had a knee replacement and naturally that's the leg that I fractured. On top of that, I fractured my tibia right across where the screw from my new knee joined the bone. I was in skilled care for six weeks with some wonderful people who took excellent care of me. Much to my surprise – because I abhor interruptions when I'm writing – I was able to finish the manuscript while I was recliner-bound. I dedicated A Touch of Forever to those folks who helped me heal, made me laugh, and helped me not feel too sorry for myself.
There's another tidbit to this book that deserves some attention. About a year before I even had an idea for this story, I agreed to participate in an online auction for a library in Massachusetts. After all this time, I can't bring the library's name to mind. I donated six or so books and agreed that I would use the name of the highest bidder in my next book. I really envisioned a minor role for the winner. You know, a shopkeeper, a madam, one of the working girls, or a snooty society maven. But, oh my, the winner was Fedora Chen. Fedora. How wonderful was that?! I verified that she was of Chinese ancestry, and that's all I know about her. Her namesake character, though, became important to the story in ways I never expected. That's how it is with me. Things just happen as I'm minding my own business and the characters are tugging on my fingers to get their story out. Congrats, Fedora!