A Season To Be Sinful
The Grantham Series
Book #1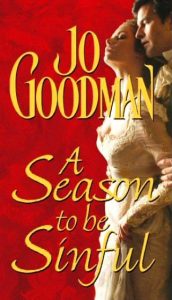 USA Today bestselling author Jo Goodman's sweeping new novel bring to life a tale of courage, desire, and dangerous secrets-as an intrepid beauty discovers that love and trust are two sides of the same coin…

Alexander Grantham, Viscount Sheridan, is stunned to find three young boys at his door, demanding he right the wrongs of an incident that occurred earlier that evening when he thwarted a determined thief. When he discovers his wily pickpocket is a woman, now gravely injured, he takes his flame-haired attacker under his wing. Clearly, Sheridan's new "guest" is a lady of quality. So how did she become a common street thief? He finds himself irresistibly drawn the to clever, cheeky Lily, and determined to unlock her mysteries…

The five years since she left the care of the French convent have been a nightmare for Lily. Her secrets are dangerous-as is the powerful man determined to find her.

The handsome Viscount is clearly a gentleman with secrets of his own, but staying with him could mean the difference between life and death for Lily. With each passing day, her handsome host Lily's convalescence into an increasingly sensual escape. Now her greatest challenge may imagining anything less than a future in his arms…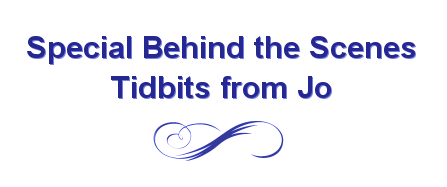 What's in a name? Actually, names are an important starting point for me. I can hardly think about a character until I have a name to put to her/him. In the case of A Season to be Sinful, Pinch, Dash, and Midge were the first characters I named. Once I had names for those three rapscallions, a story began to tumble around in my mind. Lily's name came next. It actually helped form her character, contrasting the purity of the lily to the mean streets of Holborn. There was also the fact that Lily was the diminutive of Lilith, which helped define Woodridge's character and obsession. Lord Sheridan was originally named Wyatt Henry Grantham. Names are tricky for titled Regency characters because family and close friends are likely to use the title name or some diminutive of it in addressing the character. Sheridan, because he came into his title at a young age, seemed a likely candidate to be called Sherry. The problem for me is that I really like the name Wyatt and I'm sure I'll use it at some later time. I just couldn't bring myself to use that name on a character that was only rarely going to be addressed by his Christian name. Trouble is, that when I sent in the synopsis to my editor, I hadn't yet gotten around to changing Sherry's name from Wyatt to Alexander. When I received my proof of the cover for the story it took me weeks to notice that Sherry was still referred to as Wyatt on the back blurb. Oops. In the uncorrected proofs of the story that went out, the few times Sherry's Christian name is referred to, it's still Wyatt. Oops again. Luckily the publisher agreed to correct the problem.

I may have mentioned in previous tidbits that I don't title my books. Not that I don't try from time to time. I just never seem to come up with one that the folks in publishing think will work (primarily the sales people, I think). My working title for this book, indeed, the title that kept me on track with Sherry's character, was A Well-Ordered Life. If you've already read A Season to be Sinful, then you know my title is a thumbnail sketch of Sherry. A Season to be Sinful is just hot. Not that there's anything wrong with hot. I just like to keep the heat between the covers.

The last thing I wanted to mention is my "tortured" heroines. It's only through seeing readers, posts on the net and the occasional review of my books on the net that I've come to understand my reputation for delivering tortured heroines. Sheesh. What a rep. Deserved, it seems, if I'm being honest. I will point readers to the Dennehy sisters books as proof that not all my heroines are given tough pasts to cope with, but those five books might well be the exception. (It strains my brain too much to come up with others.) In thinking about how it happens that I typically write dark pasts for my heroines, I'm guessing it's one of the ways in which my professional life collides with my writing hobby. I so admire people who have the courage to tackle the fallout from their own difficult past or present, that my heroines (and heroes) are my own small — and very general — way of paying tribute to them. Writing is not a catharsis for me, but it is a way of managing my own emotional health. Yeah, yeah, some people would just keep a journal, but I suck at that. Besides, I like to make stuff up.

As for my heroines (or heroes) being martyrs, or almost-martyrs, I'm not certain I agree there. My characters typically take responsibility for themselves and their actions. Remember when people did that? I'm so tired of politicians and bureaucrats spinning their behavior one way or another to avoid being held accountable. I'm weary of the excuses people offer in defense of hurting others. There are occasions when the characters might be over-responsible, but another character calls them on it. In my mind, that's how the characters grow and develop some insight.

Thank you to all the readers, reviewers, and message board posters that allow me to develop some insight myself.